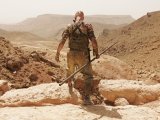 Director
: Martin Weisz
Screenwriters
: Jonathan Craven, Wes Craven
Starring
: Michael McMillian, Jessica Stroup, Jacob Vargas, Flex Alexander, Lee Thompson Young.
Running time
: 90 minutes
Certificate
: 18
Just imagine the memo that was circulated at 20th Century Fox when some bright spark decided to commission a new version of
The Hills Have Eyes
, Wes Craven's cult goreathon from 1977. Remake horror classic? Check. Rake in tidy profit without damaging the original's reputation? Check! Rush-release sequel within 13 months? CHECK! Ladies and gentlemen, we give you
The Hills Have Eyes 2
.
A unit of National Guard soldiers stops at a New Mexico outpost to deliver equipment to a group of atomic scientists. They find the camp deserted, but spot a distress signal coming from a nearby mountain range. The gung-ho group head for the hills to track down the missing scientists, unaware that they are home to a clan of cannibalistic mutants. If disturbed, the feral mutants will tear the male soldiers limb from limb and imprison the females for breeding. The three 'Gs' ensue: gore, gouging and at least one example of gratuitous mawkishness.
The Hills Have Eyes 2
manages to deliver a few gruesome thrills and, at just 90 minutes long, it doesn't outstay its welcome. However, its faults are as obvious and deep-rooted as Jordan's latest hair extensions. Director Weisz is prone to using stale, hackneyed images to build tension; is there really any excuse for showing us shots of startled bats swooping out of musty caves in 2007? The dialogue is similarly uninspired, as the screenwriters seem to think that they can lend film a sense of gritty realism by peppering the script with more "f**ks" and "bullsh**s" than an episode of
Jackass
. What's more, when Stephen Fry watches this film, he'll retract his comments about the "supreme relaxed authenticity" of the American acting tradition quicker than he can sign up for another Twinings ad.
Most worryingly of all,
The Hills Have Eyes 2
manages to make a clan of amoral, cannibalistic, bloodthirsty monsters about as scary as a hug from your Great Aunt Doris. The muffled grunts they emit – reminiscent of Scooby Doo after a Viagra overdose – are unintentionally comic and swallow any dramatic tension the film manages to create. And the soldiers, our supposed heroes, are too crudely-drawn to earn our emotional involvement. There are two female characters in
The Hills Have Eyes 2
: Jessica Stroup plays a feisty all-American blonde, while Daniella Alonso portrays an Hispanic single mother One emerges at the denouement with just a few beads of sweat glistening on her beautifully-tanned forehead; the other becomes a victim of a nauseatingly brutal rape. It's not hard to guess which actress really got to test her voice box during filming.
Ultimately, the most terrifying moment in
The Hills Have Eyes 2
is its ending. Abrupt, cynical and totally unsatisfying, it suggests that the worst is yet to come: a third instalment is on its way.