0
Movies Review
The Reaping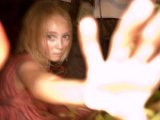 Released on Friday, Apr 20 2007
Director
: Stephen Hopkins
Screenwriters
: Carey W.Hayes, Chad Hayes
Starring
: Hilary Swank, David Morrissey, Idris Elba, Stephen Rea, Annasophia Robb
Running time
: 96 minutes
Certificate
: 15
Trailer:
WMP
/
Realplayer
/
Quicktime
Put yourself in Hilary Swank's size nines. You've won two Oscars before you need to book yourself into the Beverly Hills branch of Facelifts 'R' Us, but there's a catch: you bagged one gong for playing a pre-op transsexual and the other for portraying a boxer blessed with all the femininity of Vinnie Jones. Wherever do you turn next? She's recently depicted an inspirational inner-city school teacher in
Freedom Writers
– yes, it does sound like that one starring Michelle Pfeiffer with the Coolio song on the soundtrack – and now she's trying her hand at a supernatural thriller with
The Reaping
. Well, she's certainly proved she's got the muscle for it.
Katherine (Swank) is a former Minister who lost her faith after her husband and daughter were murdered. She's now a university professor who has investigated 48 supposed miracles – weeping statues and the like - and disproved every one with a rational scientific explanation. Her rather smug mantra? "The only miracle is that people keep believing." However, when she is summoned by a good ol' boy (Morrissey) to a Louisiana town where the swamp seems to have turned to blood, a logical explanation eludes her. Is God unleashing the ten plagues because a feral child (Robb) killed her brother? Or can Katherine calm the mounting hysteria with her powers of deduction?
First, the good news: for most of its 96 minutes
The Reaping
is scarier than being told you're about to undergo an unanaesthetised vasectomy. How can it not be? Director Hopkins has a plague of locusts, an epidemic of untreatable boils and fireballs falling from the skies at his disposal; he has no option but to scare the bejesus out of the audience. But there's more to
The Reaping
than biblical thrills: the screenwriters manage to capture the awkwardness of the relationship between nouveau-atheist Katherine and the proudly pious locals perfectly. "You don't read the bible?" the town's pastor goads. "Oh, I've read it," she replies coolly.
However, the script's willingness to mock the townspeople's religious beliefs sits uncomfortably with the awestruck terror it demands whenever God (supposedly) unleashes his fury. How can we be expected to quiver at the awesome power of the Almighty when, five minutes earlier, we were encouraged to snigger at the parochialism of the town's daycent Gard fayurin' folk? Ultimately,
The Reaping
's saving grace is Swank. She is utterly compelling as a woman who's been toughened by her emotional scar tissue but hasn't completely surrendered her capacity to believe. Sadly, even she can't bring any dignity to the film's credibility-crushing, eye on the sequel ending. You half expect a pitchfork-wielding man covered in red paint to leap out and hiss "Come to me my pretties!" in a pantomime villain voice. Hmm. Perhaps they're saving that one for
The Reaping 2
?

The Reaping is available on

Watch now