0
Movies Review
'Promised Land' review: Matt Damon stars in eco-friendly drama
Released on Friday, Apr 19 2013
Director:
Gus Van Sant;
Screenwriters:
John Krasinski,
Matt Damon
;
Starring:
Matt Damon, Frances McDormand, John Krasinski, Hal Holbrook, Rosemarie DeWitt;
Running time:
106 mins;
Certificate:
15
Matt Damon is ostensibly the bad guy in this earnest, eco-minded drama. He plays Steve, a smooth-talking rep for a gas company who is sent to buy a rural town, piece by piece, so that drilling can commence asap. Of course Steve can't be all that bad because, well, he's played by Matt Damon and he's partnered by Frances McDormand who is salt-of-the-earth and a working mum to boot.
For director Gus Van Sant there are many angles on this complicated issue and he touches on all of them without getting in deep. Fortunately, Damon and McDormand mount a charm offensive which is part of their strategy to win over the residents of a Pennsylvania backwater. To help the cause, they swap their suits for lumberjack shirts and throw in some flannel of the verbal variety.
Damon flashes them pearly whites too and when a retired science teacher (Hal Holbrook) hits him with a series of tricky questions, he counters them confidently, assuring everyone that Global has measures in place to prevent pollution of the water table. Eventually, it becomes apparent that Steve's success is tied to the fact (unlikely though it seems) that he believes in the company hype.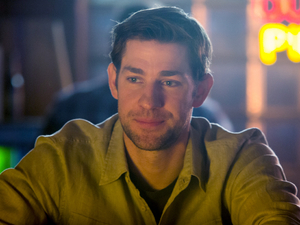 "I'm a good guy," he insists, for the edification of a local woman he fancies. But, after a brief dalliance Alice (Rosemarie DeWitt) isn't quite sure what to think and Steve loses ground to another new arrival, nice-as-pie Dustin (a grinning John Krasinski) who not only moves in on his crush but plants his flag as an eco-warrior, telling of how his own hometown was ravaged by Global.
Dustin begins a one-man campaign to sway the locals away from Steve's promise of "life-changing money", which is a daunting task with the economy in steep decline.
In any case Steve takes it very personally and stands in fields a lot, staring hard into the middle distance. But it's unclear what he really thinks and feels. Is he just a corporate drone, or in denial, or a slave to his ego...?
It's easier to identify with Alice as she struggles to understand what kind of man Steve really is. The best indicator of his slowly changing outlook is the growing nervousness of his longtime cohort Sue (McDormand) in situations where Steve loses his rag. She, too, may have been a more compelling central character; trying to reconcile the ethics of her job with having to provide for her kids.
Van Sant does paint an inviting picture of a small farming community, which is far from idyllic but cosily close-knit. With Damon in quiet repose against the rolling hills it evokes the similarly themed 1983 classic
Local Hero
(with Peter Riegert as an oil exec despatched to Scotland), except that Riegert is gradually assimilated into the fold and Damon is always stood apart from it.
His attempts to persuade Alice of his good intentions keep the film from slipping too far down a slope and later, photographic evidence forces him to see Dustin's mission in a new light. Finally, Steve recovers a sense of purpose and the pace picks up, but then there's too much chicanery and speechifying, which feels more Hollywoodland than 'Promised Land', with barely a rock to cling to.