7
Movies Review
Muppets Most Wanted review: Ricky Gervais leads fast and funny caper
Director:
James Bobin;
Screenwriters:
James Bobin, Nicholas Stoller;
Starring:
Ricky Gervais
, Tina Fey, Ty Burrell, Kermit the Frog, Miss Piggy;
Running time:
113 mins;
Certificate:
U
With its comeback-within-a-comeback storyline and a charming lead turn from Jason Segel, Kermit, Miss Piggy and co got the revival they deserved in 2011's box office hit
The Muppets
. A charming, delightfully upbeat film packed with memorable songs from
Flight of the Conchords
' Bret McKenzie, it served as both an accessible introduction for newcomers and fan service to those who grew up with Jim Henson's endearing creations.
Follow-up
Muppets Most Wanted
begins just seconds after its predecessor, with the gang still basking in the glory of their show-stopping Hollywood performance. When they realise the cameras are still rolling, opening number 'We're Doing a Sequel' kicks in to set up a continental caper that sees Kermit replaced as the Muppets' figurehead by his sinister Russian doppelganger Constantine.
Ricky Gervais takes the (human) lead here as Dominic Badguy (pronounced Bad-gee), the second-in-command to Constantine who pinballs across Europe with the Muppets using their tour as a cover to execute a number of jewel heists. As the caper unfolds, Kermit, having been mistaken for Constantine, finds himself imprisoned in a Russian Gulag by Tina Fey's Nadya, while Interpol agent Jean Pierre Napoleon (Ty Burrell) teams up with CIA agent Sam the Eagle to catch the thieves in the act.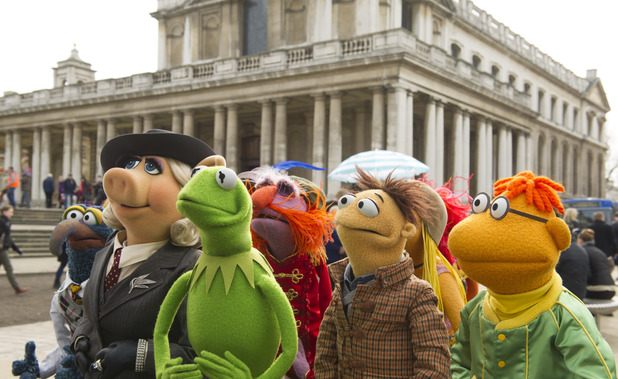 Where
The Muppets
wrapped wistful nostalgia around smartly-scripted meta humour,
Most Wanted
is a more conventional series outing that brings the eponymous stars front and centre. Gervais, more in the Charles Grodin mould than his everyman predecessor Segel, is the strongest presence among all the three leads. His Dominic makes for an amusingly sly counterpoint to our earnest felt friends, and he even commits to an ambitious song-and-dance number that sees him bust out some David Brent-style dance moves.
The three-pronged narrative means that Fey and Burrell don't fare quite so well, finding themselves with less screen time than Gervais and leaning heavily on the comedy Euro accents. Nevertheless, the gags fly thick and fast and more often than not hit the target in spite of the patchwork nature of the plot.
Muppets Most Wanted is gleefully entertaining from start to finish, the kind of film that'll quickly put a grin on your face that won't subside until long after the credits roll.
Kermit's attempted prison break, which tips its hat to
The Shawshank Redemption
, and fellow inmates (among them Danny Trejo, Jemaine Clement and Ray Liotta) are highlights. Burrell also makes the most of his bumbling Clouseau-esque Frenchman, playing on awkward Anglo-American relations with his eagle co-star.
Muppets Most Wanted
is gleefully entertaining from start to finish, the kind of film that'll quickly put a grin on your face that won't subside until long after the credits roll. Director Bobin is able to carry over the feeling of warmth and cosy familiarity from the previous film into a fast and funny Muppets-led adventure.
McKenzie's songs aren't quite as good as last time, but the film is so fleet-footed and fun it hardly matters. If you're amused by the idea of Christoph Waltz dancing the waltz, Swedish chef re-enacting
The Seventh Seal
and Miss Piggy performing a duet with Celine Dion, then this is a sequel that won't disappoint.