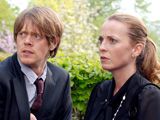 Director:
Frank Oz
Screenwriter:
Dean Craig
Starring:
Matthew MacFadyen, Keeley Hawes, Alan Tudyk, Daisy Donovan
Running time:
90 mins
Certificate:
15
"Tea can do many things… but it can't bring back the dead," points out Sandra (Jane Asher) during the opening to this new British comedy film that seeks to merge stiff upper lips and stiffs of another kind to hilarious effect. The end result is sadly not too full of life, as an intriguing premise is distinctly lacking in enough decent gags to keep us amused. Like tea,
Death At A Funeral
is nice, dependable, but not particularly interesting.
The narrative follows the gathering of a family united from various parts of the globe for the funeral of a much-loved father to brothers Daniel (Matthew MacFadyen) and Robert (Rupert Graves). For some, merely travelling to the event is a stern test of the emotions, while some narcotics disguised as painkillers unwittingly do the rounds. Bitter family conflicts emerge, a mysterious guest turns up and all-round mayhem ensues.
For a large chunk of the film,
Death At A Funeral
plods along with some mildly quirky character observation but very little in terms of plot to hook us in. After a long wait, it finally kicks into life when a devious dwarf turns up at the ceremony armed with a shock revelation and a major demand. The tone of the film quickly shifts into enjoyably dark, farcical realms as there's another stiff body to deal with, although this twist provides a jolt of excitement needed much earlier in the ponderous narrative.
The undoubted highlight of the film comes from Alan Tudyk's hilarious performance as Simon, a nice enough chap who unwittingly downs some seriously potent hallucinogenic drugs prior to his arrival at the funeral. Threatening to steal the entire film as opposed to individual scenes, Tudyk is on particularly fine form when Simon settles down for the eulogy, only to nervously and repeatedly remark that the coffin is moving in front of a host of bereaved relatives. Director Frank Oz also deserves credit for allowing the performance to shine through and not be lost amongst any quick editing.
The ensemble cast all fit their quirky characters well and are a pleasure to watch, with an abundance of familiar faces from television. There's Kris Marshall from
My Family
,
Ever Decreasing Circles'
Peter Egan,
The 11 O'Clock Show's
Daisy Donovan and Keeley Hawes from
Spooks
amongst others. But given their presence and the lack of 'oomph' and drive in the script, once can't help feeling that this would make a superior television movie to settle down to on a cold Sunday night, rather than necessitating the effort of a trip to the cinema.
A reasonably diverting way to spend ninety minutes,
Death At A Funeral
certainly has more life than a corpse but lacks the invention and inspiration needed to make it stand out. It's nice and pleasant, but then so is a cup of tea. But
Death At A Funeral
lacks any biccies to make the experience more enjoyable.