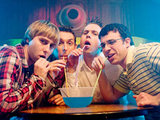 The Inbetweeners Movie
, which opened in UK cinemas this week, sends school pals Will, Simon, Jay and Neil off on a booze-fuelled holiday to Malia.
Reprising their roles from the hugely popular E4 sitcom, stars
Simon Bird
, Joe Thomas, James Buckley and Blake Harrison sat down with
Digital Spy
to chat about their antics on the big screen. On the agenda: Becoming literal "bus w*nkers", embarrassing themselves for the sake of a laugh and why they're glad the film isn't in 3D.
Watch our interview with the
Inbetweeners Movie
stars below:
More Inbetweeners Movie coverage:
> The Inbetweeners Movie is "final piece of the jigsaw"
> The Inbetweeners Movie premiere in pictures
> The Inbetweeners Movie trailer: 10 best bits
> The Inbetweeners Movie review