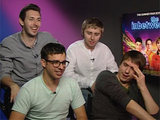 The makers of
The Inbetweeners Movie
are reportedly planning to release the film in America.
The movie adaptation, which
recently achieved the biggest opening weekend of all time for a UK comedy
, will hit US cinemas in November, the
Daily Star Sunday
reports.
A source at film sales company IM Global said: "The movie has been doing extremely well in the UK and we are very pleased with the results.
"The sales team is currently in discussions with US distributors regarding this film."
Star Simon Bird said of the show's success: "We never thought we'd do another series after the first, so for us to make a movie, we just never thought that would happen.
"I honestly thought the first TV series would get cancelled halfway through. It's totally unexpected. It was a bit like, 'How long can this continue?' It's great we've been allowed to carry on."
MTV
ordered a full season of the US version of The Inbetweeners
back in March.
> Inbetweeners Movie interview: Simon Bird, Joe Thomas, James Buckley, Blake Harrison