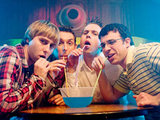 The cast and writer of
The Inbetweeners
have laughed off rumours that a sequel film has already been planned.
The movie spinoff of the successful E4 sitcom
took £20 million at the UK box office
on the first week of release, and a report in
The Mirror
claimed that
a sequel was already being lined up
.
The film's co-writer
Iain Morris
said on Twitter: "First I've heard of it. Maybe
The Mirror
are writing it?"
He added: "Honestly, we haven't even talked about it. It's our first day in today. I've been drunk for a month... Not sure who the 'insider' is."
Actor Blake Harrison, who plays Neil Sutherland in the sitcom and movie, said: "I know nothing about a 2nd
Inbetweeners
film. I wouldn't believe everything you read... except
Star Wars
novels... they really happened."
Morris quipped in response: "You're not in it. we've filmed it. An 'insider' from 'the studio' told me."
Asked last month about the possibility of a sequel, co-creator Damon Beesley told
Digital Spy
: "
The Inbetweeners
itself has always been about a time in your life between when you're a school kid and before you go to university.
"Unless you squeezed a lot into that three months of their lives before they went to university there isn't really a lot of scope to continue that so it does feel, very sadly, like this is the end of
The Inbetweeners
."
Watch our recent interview with Iain Morris and Damon Beesley below: