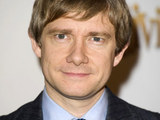 Martin Freeman
has taken a hiatus from
shooting The Hobbit in New Zealand
in order to film scenes for
Sherlock
.
The actor, who is portraying Bilbo Baggins in the J.R.R. Tolkien adaptation, also appears in the BBC drama as Dr Watson.
During negotiations for Freeman's role in the Peter Jackson-helmed movie,
concessions were made to ensure that the British star would be able to fulfil commitments to both projects
.
Sir Ian McKellen revealed the current arrangement in a blog post, explaining: "Martin Freeman has left
The Hobbit
. This is not another April Fool, just a May Fact.
"Before signing as Bilbo, Martin had agreed to make three 90-minute TV films in London, again playing Dr Watson to Benedict Cumberbatch's Sherlock Holmes.
"No worries: he'll be back in Middle Earth after our first hiatus, during which Peter Jackson will have spare time to edit the scenes already completed."
Last month, former
EastEnders
actor
Rob Kazinsky was forced to leave the production for an undisclosed "health issue"
.