Welcome to Digital Spy's live coverage of the 2006 Tribeca Film Festival in New York City!

Neil Wilkes and Dan Saney bring you all the latest from New York City's premier celebration of movies.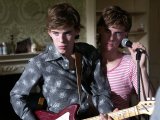 Top Story
Friday October 06, 00:00
Louis Pepe and Keith Fulton direct an effective faux documentary about a pair of conjoined twins.
| | |
| --- | --- |
| Jun 01 2006, 16:00 | |
| 14:58 | |
| May 14 2006, 17:55 | |
| May 14 2006, 00:06 | |
| May 12 2006, 16:00 | |
| May 12 2006, 00:15 | |
| May 08 2006, 05:02 | |
| May 07 2006, 19:56 | |
| May 07 2006, 16:51 | |
| May 07 2006, 03:35 | |
| May 06 2006, 00:11 | |
| May 03 2006, 16:37 | |
| May 03 2006, 16:35 | |
| May 03 2006, 16:00 | |
| May 01 2006, 19:14 | |
| Apr 29 2006, 20:27 | |
| Apr 28 2006, 20:58 | |
| Apr 27 2006, 19:59 | |
| Apr 27 2006, 19:21 | |
| Apr 27 2006, 16:41 | |
| Apr 26 2006, 17:24 | |
| Apr 26 2006, 16:13 | |
| Apr 26 2006, 00:45 | |
| Apr 25 2006, 22:19 | |
| Apr 25 2006, 20:00 | |
| Apr 24 2006, 20:05 | |
| Apr 24 2006, 18:56 | |
| Apr 18 2006, 19:09 | |
| Apr 12 2006, 22:37 | |
| Apr 06 2006, 09:20 | |
| Mar 30 2006, 00:35 | |
| May 03 2005, 15:20 | |