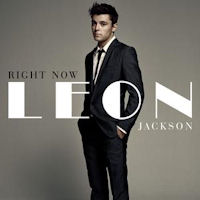 Poor old
Leon Jackson
. He was never going to compete with Leona Lewis, but he can't have expected to have his thunder stolen by an overweight Northern Irish transsexual who's actually Peter Kay in a wig. But that's what happened on Sunday when Geraldine McQueen's
'The Winner's Song'
- a Gary Barlow-penned spoof with a key change Simon Cowell would kill for - charted higher than Jackson's
'Don't Call This Love'
.
Then again, even Jackson's staunchest supporters can't have been thrilled by 'Don't Call This Love', a pleasant but nondescript ballad that anyone from Cliff Richard to Ronan Keating could have sung - joke or no joke, at least 'The Winner's Song' has that key change. Sadly, everything that makes Jackson's single such a damp squib is repeated across his debut album, an unadventurous, largely characterless record that's suffocated by an excess of gloopy strings.
Jackson doesn't do a bad job, wrapping his warm, smooth vocals around a succession of beige ballads, classics that are too old for him (Leon Russell's 'A Song For You', Dorothy Moore's 'Misty Blue', Ray Charles's 'You Don't Know Me') and the odd uptempo big band number. But other than sounding surprisingly manly for a slight 19-year-old and singing in a Scottish accent for the first time on the album's penultimate track, he doesn't make much of an impression. He's rarely asked to test his range and there are few glimmers of personality across
Right Now
's 50 minutes.
There are a couple of decent moments - 'Creative' swings pretty nicely in a Bublé-esque fashion, 'Could Do Better' comes close to sounding sexy - but ultimately
Right Now
is closer to Steve Brookstein's
Heart And Soul
than Leona Lewis's
Spirit
. It's an album that features almost as many covers as originals, where the covers are competent but uninspired and the originals aren't very memorable. And the singer? Well, he doesn't do enough to suggest he's here for the long haul.

> Click here to read our recent interview with Leon Jackson