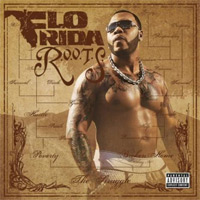 "I got the chance to visit Africa after my last album,"
Flo Rida
told
DS
a couple of weeks ago. "There's a lot of people struggling over there. If anyone's followed my career, they'll know there's been a lot of struggle along the way too." Yes, you did read that correctly. Flo Rida, a rapper who struck gold in 2008 with a track called
'Low'
that he wrote about "big booty" girls, is comparing his life's troubles to those of an entire continent. Someone call Bob Geldof quick! Having named it
R.O.O.T.S
(It stands for "Routes Of Overcoming The Struggle"), the hip-hop star is obviously taking his second album very, very seriously.
It's rather odd, therefore, to find the muscle-bound rapper reeling off lyrics about "penis satisfaction" just four tracks into the new record. If there's a theme to this album, it definitely isn't struggle, grief or battling adversity. In fact, Flo spends more time discussing women's bottoms than reminiscing about his childhood in the projects. Opening track 'Finally Here', with its message about "money not growing on trees", is a little clichéd, but at least it's well-meaning. Sadly these platitudes are as good as it gets on this bog-standard, testosterone-fuelled rap album.
If you can't get enough of macho misogyny, then 'Touch Me', which features panting orgasmic females on backing vocals, should be right up your street. 'Available', which finds Flo promising to make a girl "wiggle" and features Akon's nasal whining on the chorus, is a particular nadir. That said, the skit at the end of 'Shone', on which Flo talks about placing his genitals in a lady's mouth, comes a pretty close second. Almost as foul as these lyrical howlers is the 'Blue (Da Ba De)' sample on 'Sugar', which manages to be even more irritating than the atrocious Eurocheese original.
Elsewhere, regulation party banger 'Jump' features a guest appearance from Nelly Furtado, who should really start questioning her agent. First James Morrison, now this? At least Furtado didn't choose to guest on the 'Private Dancer'-sampling filth of 'Gotta Get It (Dancer)'. "Freaky dancer, dancing she loves it, do what you got to do," raps Flo over the sort of cheap beats last heard on a Nelly record in 2003. If anyone had any lingering doubts as to Flo's sexuality - does the macho pose on the sleeve not make it obvious? - he continues to pay tribute to dancing ladies on 'Shone' ("Gonna toss a couple dollars, I pop her bottles") and single
'Right Round'
("Touching these a**es, watching them go down").
On the title track, Flo Rida does refer to his upbringing in "the slums", but it comes across as tokenistic and inappropriate within the 'bling and bootie' context of the album. Ultimately there's nothing on
R.O.O.T.S
which hasn't been heard countless times before. Women are beautiful, Flo wants to sleep with them and he gets to do so rather a lot. All this record proves is that the cash must be making him popular with the ladies, because there's very little attraction to his robotic, by-numbers hip-hop.

> Click here to read our interview with Flo Rida