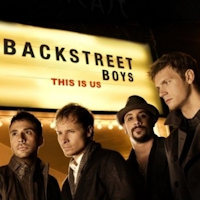 "We wanted to go back to being us," AJ McLean
told DS
when describing the
Backstreet Boys
' seventh album. It's a point the disc's rather demonstrative title seems designed to make –
This! Is! Us!
– and one that the music inside doesn't renege on. After two albums of stodgier pop/rock fare, the four-piece – original member Kevin Richardson jumped ship in 2006 - have returned to their classic pop sound.
Or, more accurately, had it updated.
This Is Us
boasts production from a raft of trendy knob-twiddlers, T-Pain and Ryan Tedder among them, and mostly sounds cool, current and contemporary. There's a smattering of synthy midtempo tracks ('Bye Bye Love', 'If I Knew Then', 'This Is Us'), a pair of pumpin' RedOne productions (lead single
'Straight Through My Heart'
, 'All Of Your Life'), the odd sexy club cut ('Masquerade'), and a couple of fairly fresh ballads at the end ('Shattered', Undone'). UK bonus track 'Helpless' even features a rap from a well-behaved Pitbull.
On one or two occasions, the group tries a little too hard to prove its youthful exuberance. 'PDA' is a cringey Timbaland knock-off on which the boys fantasise about groping their girlfriends in Starbucks - blame the frothed milk, perhaps - while 'She's A Dream' finds them boasting about flying first class and hanging out in the VIP area. From a troupe of upstarts new to the popstar lifestyle, this would be forgivable. From a group of grown-ups who've been rich and famous for well over a decade now, it just sounds crass.
Still, the odd lapse in judgement isn't enough to sully the album's charms. The boys' vocals are as impressive as ever – check out the harmonies on 'She's A Dream' – and there's plenty here to test their dance moves when they tour next month. It doesn't have an 'I Want It That Way' of course, and the first half is generally stronger than the second, but
This Is Us
features enough winning moments to remind fans why they fell for the Backstreet Boys in the first place. For that reason, the group's return to core values should be deemed a success.