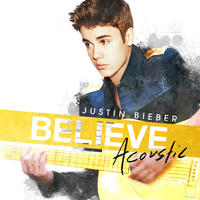 Given
Justin Bieber
is the original YouTube crooner-turned-international-superstar, an album of acoustic-only songs makes perfect sense - in theory. His route to fame sparked a trend of wannabe popstars clogging up video sharing sites with stripped back versions of current hits to varying degrees of annoyance, so what better way to show them all that he's still the same plucky teen who isn't above strumming a guitar by re-working a selection of tracks from his own worldwide chart-topping LP
Believe
?
Removal of the multi-layered production and studio trickery heard on the parent album reveals a smoother and less, ahem, babyish vocal than most will be familiar with, save the occasional wobbly run on
'Be Alright'
and
'Boyfriend'
. The latter's embarrassingly weak lyrics ("I got money in my hands that I'd really like to blow on you/ Chilling by the fire eating fondue") is a recurring problem throughout (also see:
'As Long As You Love Me'
), though it's largely saved by guitarist Dan Kanter, who ensures the melodic hooks remain largely intact. It's less of an issue on the back-end's three new songs, but after listening to the schmaltzy
'Nothing Like Us'
- his first self-written and produced track - we'd prefer the polished, shinier and glossier Justin Bieber any day.

Listen to
Believe Acoustic
below: