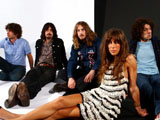 It's been a funny old year for
The Zutons
. They kick-started the summer with the fizzy pop single
'Always Right Behind You'
, but their third studio album,
You Can Do Anything
, failed to live up to expectations and received middling reviews. The usually cheery Scousers then got booed at T4 On The Beach after having a bit of a sulk onstage. Is everything OK in Camp Zuton? We called Russ from the band to find out.
Are you disappointed that the album's had mixed reviews?
"I don't mean to be blasé, but I'm not really that bothered. The reviews that weren't as good tended to give us four out of five, but then singled out certain songs for criticism. I think that means the reviewer doesn't personally like it but was told by an editor to give it four out of five. I don't really trust the good ones or the bad ones."
Dave, your frontman, said he thinks the band might have gone out of fashion. Do you think that's the case?
"We were never in fashion, but we're even more
not
in fashion now. But, you know, so what? The reason we're a successful band is because we're good at making music. That's what attracts fans at the end of the day. You may get trendy bands or fashiony bands who attract a certain sort of attention. But if you're a good band who make good music, you should attract any human being with a pair of ears. We make good, soulful music that's played well, has a good heart and isn't up its own backside."
You haven't reached the stage of headlining festivals yet. Is that an ambition?
"Hopefully. When you reach headline level, you become that level... on a lot of levels. That's a weird sentence, but hopefully you know what I mean! When the Arctic Monkeys headlined Glastonbury, it was a like a rubber stamp - they'd done it, they'd pulled it off, they're amazing. It meant they could go on and play big dates in other countries."
Is it frustrating to see bands you don't like playing above you on the bill?
"You do see a lot of bands playing things like [big Japanese festival] Fuji Rock and think, 'You've only done one song and it's crap!' It's really annoying because the band aren't going anywhere and ultimately someone down the line is wasting money. That's when it's really s**t, because it gives the band delusions of grandeur."
What happened at T4 On The Beach? You looked pretty unhappy onstage and then you got booed by the crowd.
"You know what, I don't know what to say. We didn't want to do it and obviously that's what came across. We just didn't want to be there, we wouldn't do it again and I don't think they'd want us back. It's a bit of a bad vibe down there and it wasn't anyone's fault, but we shouldn't have played. Maybe we shouldn't have been sulky, but that's the way it happened. It was crap! There you go, the whole thing is crap!"
You didn't stay behind to party with the Hollyoaks cast then?
"That
would
be a laugh, wouldn't it? F**kin' hell!"
What's your problem with those sorts of events?
"That's the only event which is like that to be honest. You're playing live in front of all these people, but you're actually miming. We realise we're in the business of selling music and we do lots of things to sell our product, but that whole event is just soulless. We'd done it once before and said we didn't want to do it again. For one reason or another we ended up playing it this time, which doubly pissed us off."
So you'll be leaving it to McFly next year then.
"Exactly. All they want is Scouting Like Girls or Ne-Yo, or whatever his name his - people like that. We're not like that, thankfully."
The Zutons release new single 'What's Your Problem' on September 8. Their album, You Can Do Anything, is out now.