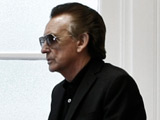 Sheffield's musical heritage is a match for any city in Britain, with artists such as The Human League, Pulp and Arctic Monkeys all hailing from the Steel City. Veteran Sheffield crooner and 'Amarillo' hitmaker
Tony Christie
pays tribute to his hometown on new album
Made In Sheffield
, which features songs written by Jarvis Cocker, Richard Hawley and Alex Turner. We gave the 65-year-old gentleman of pop a call to find out more.
You presented an award at the Q Awards recently. How was your evening?
"It was great actually, very interesting. I was expecting it to be a bit more rowdy, but Oasis and the Gallagher brothers didn't turn up so it wasn't too bad. The Last Shadow Puppets won the prize that I presented for Best Newcomer, so that was very nice."
How did your new album, Made In Sheffield, come about?
"I asked Richard Hawley to produce a track for me, 'Coles Corner', which he released in 2005. I wanted him to work on just one song for the album and he said, 'I've got a better idea, why don't I produce the whole album?' After a couple of days together we came up with the idea of writing a record based around Sheffield and all the artists and writers that come from the city."
What is it about Sheffield that's produced such great music?
"I don't know. It's always being undersold and the city has never been good at self promotion. Unlike Manchester and Liverpool, which are always blurting on about their heritage, Sheffield doesn't blow its own trumpet. Sheffield has produced some of the most innovative music and never crowed about it. What we've done is what Sheffield City Council should have done several years ago."
You've worked with Richard Hawley and Alex Turner on the record. Is it strange working with these young artists who look up to you?
"It's very odd, because when they were kids it was their parents playing my records. They've been brought up with my music. Alex Turner's mum was a big fan of mine and he told me the fact that I'd recorded one of his songs had made her really proud."
What's Alex like in person? He comes across as quite cheeky.
"He is quite cheeky. He looks about 16 years old - I know he's older, but he looks so young! He's a very talented lad. Apart from the Monkeys, he's also doing the Last Shadow Puppets, so he's obviously got a lot of ideas and requires plenty of outlets for his creativity."
Does your age mean you have to take extra special care of your voice?
"No, I don't. I never abuse it, but I'm fortunate that I've don't have to look after it. I don't go to bed early and certainly never used to. I did all the usual things when I was on tour as a youngster. We all abused our bodies, didn't get enough sleep and drank too much. When you're young you can get away with it, but not so much these days."
Would you like to have recorded a Bond theme?
"I would love to have done it. It's like asking, 'Would you like to win the pools?' It's something that's not been very good lately, shall we say? The last couple of films haven't produced anything of note - no songs that make you think 'This is a Bond hit'. All the great ones with Shirley Bassey, Tom Jones and Matt Monro, they haven't matched them. I'm sorry but the recent songs just haven't been good enough."
They seem to pick current artists rather than people appropriate to the song.
"It's a lot of politics these days, the way the songs and artists are picked."
How often do you get asked about 'Amarillo'?
"This is the third time today it's been mentioned. It's an iconic pop song, isn't it? I'm glad I did it, because if I hadn't someone else would have done. It's a great, great pop song. I'm not in contact with Peter Kay anymore - we only got together because of the Children In Need and
Phoenix Nights
connection. Comedians move in different circles to musicians, so I never bump into him."
Tony Christie releases new single 'Born To Cry' on November 3. Made In Sheffield follows on November 10.