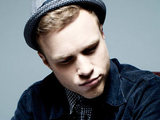 Last time we spoke to
X Factor
runner up
Olly Murs
he was on the cusp of releasing his soon-to-be chart-topping single
'Please Don't Let Me Go'
- and having gone on to score a second top five hit and release the biggest selling debut album of 2010, he's certainly proving himself to be more than a one-trick pony. Fresh from a Comic Relief trek through the African desert and with a 30-date headline tour just weeks away, we sat down with him - trendy headwear and all - for a much needed catch up.
How did you find the trek for Comic Relief?
"I didn't get much of a tan while I was over there! It was so hot, but it was a really good experience. Obviously the idea was to raise lots of money, and we've raised just under a million pounds which is incredible. We're hoping to increase that when the documentary airs on TV."
What was the situation like out there?
"I saw the operations and visited all the camps and the stuff they're doing over there is inspiring. There's people volunteering to do these operations for free and to help these people out. It helps give people the gift of sight again - and it opens our eyes as to what the situation is over there. It was great to see that and make us realise that the trek is for a good cause, and the end result has been amazing."
There were reports that you suffered some chaffing...
"Oh massive chaffing! I had some Sudocrem and it said it was for nappy rashes! I was chatting for an interview and told him I had a nappy rash - as that's pretty much what it was. I had it all down the front. And when you're walking for nine to ten hours a day, it was hurting. We're talking serious pain. I didn't struggle with my feet or with blisters though, so I was lucky really."
Your new single 'Heart On My Sleeve' is one of the more sombre songs on the album, why did you decide to release it?
"We wanted to do a ballad. I wanted to do something completely different. I didn't want people to think 'Oh, this is what Olly does', I wanted to show people that the album has variation. We've got a fourth single to follow as well which is going to be different too. I'm a huge fan of 'Heart On My Sleeve' - I think it has a Take That feel to it! John Shanks and James Morrison wrote the track and we spoke to Sony and asked if we could reference a 'Greatest Day'/ 'Rule The World' sound to make that epic ballad. I think it does the job."
Are you pleased with the overall response to your debut album?
"It's been amazing, and I think we're double platinum which is great! To hit that kind of level on my first album is incredible. For me, just to get the album out and for people to be buying it was an achievement, and from that album we had the sell-out tour which has kept up the momentum. I had a great year last year and we've got a great one lined up - all the hard work we've put in has benefited us really."
You co-wrote quite a few songs on the album. How important is writing your own material to you?
"I wrote ten of the 12 [tracks], and to get that many songs on there that I wrote is incredible. I think it's so important to do it because it gives it that personal touch. It wouldn't be a successful record if it wasn't personal - for example - the lyrics I've written about the stuff I've been through with different girls. If you don't have those experiences to talk about, when you sing the song you can't sing it with passion, and that's why it works. I'm also the only
X Factor
act who helped co-write a single that's gone to number one, so I'm really chuffed about that. I hope it makes people realise that real talent can come from that show."
Were you disappointed on losing out on a Brit Award last month?
"I had an amazing night at the ceremony, and I have to congratulate Tinie Tempah - he was absolutely incredible. He deserved all the awards he won so I'm not gutted that I lost. Personally, just to be nominated was a great achievement. You can't knock what Tinie Tempah has done this year - he's been world class. Hopefully it won't be the last time I go, but you just don't know really. It might not happen again, so you've got to cherish these moments.
Have you started to think about the second album yet?
"I was just chatting to my team this morning about what we want to do. We've had quite a busy year, and the next six months are crazy, but we'll talk about it in between and see what happens. I'm looking forward to it. No decision has been made on whether we are going to release it this year or next yet - we're not even sure what direction we're going to take with it."
Are there any new producers or writers that you'd like to work with on it?
"I'm quite happy to work with the same writers I worked with before. As I said, we haven't decided what vibe we're going to go with yet, but I have a few ideas, so that might change the writers we work with. We're not really at that stage yet. Once we figure out when we can release it then we'll start getting the tracks down."
What can fans expect from your upcoming tour?
"If people are paying money to see me then I want them to walk away from the show knowing they had a really great time. I want it to be very energetic and to have fun, sad, emotional and uplifting moments. I want it to have everything! I've watched the likes of Robbie Williams, Justin Timberlake and Michael Buble and so I want to make sure it has elements of what makes their shows amazing. I just want people to get their money's worth."
If Simon and Cheryl were to leave the UK X Factor for the US version, how do you think it would change the show?
"I don't think there's going to be much of a problem. Simon's not doing
American Idol
anymore and he's not doing
Britain's Got Talent
this year, so I think that'll free him up to do both
X Factor's
. Cheryl's always stated in the press that she would love to go to America and I think she'd be great over there. Everyone wants to progress their career and be as big as they possibly can, and I think with Cheryl going to America, she could become an even big star than she is over here."
Olly Murs releases 'Heart on my Sleeve' on March 6. His headline tour kicks off in Margate on April 29.