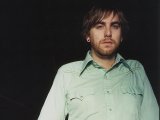 Kylie Minogue, Holly Valance, Rogue Traders... Australians have given us a lot of music over the last few years, haven't they? But it's a little known fact that not all Kangaroo-lovers in the music business made their name on
Neighbours
. Up-and-coming guitar strummer Josh Pyke has built his fanbase the old-fashioned way, by embarking on a touring schedule that makes the Rolling Stones look work-shy. We caught up with Josh to discuss his new album, the inspiration behind his songs and... err... Natalie Imbruglia.
Your new album Memories & Dust is out next week. How would you describe it?
"It's f**king amazing, you know! I dunno, it's an album I've essentially been wanting to make for a long time. I'd like to think it was an honest album, unpretentious and just a lot of songwriting. I tried to present the songwriting in an organic way - substance over style, not the other way round. Lots of melodies!"
Which artists and bands have influenced your sound?
"I guess melodically, you have to go back to people like the Beatles and the Beach Boys, but also doo-woppers and Jackson Browne. In terms of contemporaries, I like the Shins and Wilco. Stuff like that, you know."
'Middle of the Hill' tells us a lot about your childhood, and 'Private Education' details a painful relationship. Do you find it hard to sing such personal songs in front of an audience?
.
"Um, not really, because I think I write them with enough metaphor - apart from 'Middle Of The Hill', which is what it is, it's straight down the line, no metaphors, and that's what happened - but for everything else I feel like I've cloaked them in enough metaphor that people wouldn't necessarily know what I'm talking about. It doesn't feel like I'm going, 'I've had a rough time with this particular being'. I'm just expressing a situation a lot of people would be able to recognise anyway...I don't think everyone else is thinking about what I've been through as I sing the songs."
What do you miss most about Australia when you're touring in Britain?
"The weather! And the food's excellent in Australia - lots of good, cheap meals and stuff like that. But every time I've been here I've had a really good time. It's a dream for any artist to tour another country. To sell out a show in another country is f**king crazy. That's really exciting, so I miss Australia but I'm very happy doing what I'm doing."
Where has been your favourite place to play in Britain?
"A few places. Shepherd's Bush Empire was a great one. That's probably the cream so far. As well as Wakefield."
What was Wakefield like?
"It was cool, actually. I played at a little place called Esco Bar. It seemed like the only place that anybody goes! It was kind of cool. The town was quiet. On the wall of the bar there were photos of all the bands that played there, like the Arctic Monkeys and the Kooks. I guess when you're going through on the way to leave, stop in there."
You've worked with Chris Joannou from Silverchair. What was that like?
"It was good, he's a good guy. Just a very normal, down to earth guy. Of course, he does have a beautiful property on (Australia's) central coast, which is where we were doing the recording. He's a down to earth guy, but he's also pretty loaded! He's got a five-acre property with his studio, his house, his guest quarters, and it's like a five minute drive to the beach. Even apart from the fact he's a fantastic guy, it was summertime, so it was great, yeah."
Chris' bandmate Daniel Johns goes out with Natalie Imbruglia, so I have to ask: have you met her?
"No, I haven't, but I know her sister a little!"
What's her sister like?
"She's a gorgeous girl, yeah. Laura supported me on tour in Australia, so we spent a lot of time together. She's a cool girl, a really cool girl."
Who would you like to work with in the future?
"I would kill to do a collaboration with the Shins - that would be awesome, that would be a killer! Interpol are one of my favourite bands. I'd love just to play guitar on one of their tracks. I haven't done much collaboration, so it would be an interesting thing to do."
What do the next few months hold for you?
"Just touring, really... I've just come back to the UK for another month or two, and then I go home for my Australian album tour, and then straight back here for another one, and then home for a regional tour and back here for three months. So I can basically tell you exactly what I'll be doing in a general sense for the next few months, which is good. As a musician, you never really know what's coming up, so it's a good thing."
Where would you like to be in five years time?
"I'd like to have three albums under my belt and I'd like to be in a position where I knew I had a core fanbase that would buy my records . I'd like to cut back on touring! And I'd really love to have a studio somewhere nice, like Chris has. (I'd like to) produce other artists and have a quiet life: release records when I want, write a book. I just want a nice, quiet, creative life where I don't have to worry about money. I don't want to be rich - I wouldn't mind being rich - but it's not one of my goals, necessarily. I just don't want to have to worry about making rent."
Josh Pyke's album Memories and Dust is out on May 21.