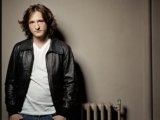 Ben Mills made his name singing 'Maggie May' in a wonderfully croaky voice on
The X Factor
. Since the show finished he's been busy recording his debut album - which doesn't feature any swing covers - and touring with his fellow
X Factor
contestants. We caught up with the rasping rocker to discuss his new album, Sharon Osbourne and the pros and cons of a Nicky Clarke haircut.
How would you describe your album?
"It's the past and future all rolled into one. Obviously it includes the tracks that have to be on there - the
X Factor
songs that I did - but there's also a little taste of what's to come...It's not the sort of album you could run a thread through. Every track's very different - the record company kept coming back and saying, 'Can you write a song in the style of Aerosmith?', 'Can you write a song like Joe Cocker would do? Can you write a Van Morrison song? Or a pop song? Can you write those?' I was like, 'Okay, we'll write a pop song!"
The album features five original songs and seven covers. Which do you prefer?
"I get so much more out of singing my own stuff. It's the way forward really. I have sung covers since day one, just to make a living, so I'm no stranger to a cover. (Before
The X Factor
) I was at a point in my life where if I had to sing 'Moondance' by Van Morrison one more time I was going to chop my vocal cords out! It was just killing me to do covers all the time. So now I'm actually getting a chance to play the songs I've written myself and it's a dream come true. I've got the album out; it's got songs I wrote with Guy Chambers on it, and all I care about is that I can hold them in my hand and say, 'That's my work'."
Why has your single 'Beside You' been cancelled?
"This is where it gets a bit confusing...'Beside You' isn't really the direction that I'm going in.
There's no point in me turning around and saying, 'That's how the album is', because it's not. It's almost like me releasing 'A Moment Like This' after all the fuss I kicked up about it on the show. For me to go and release a pop song like 'Beside You' is crazy...(But) when it came down to it and (the record company) said, 'We are going to release 'Beside You' for the first single', I heard alarm bells ringing big time. My fans are going to say 'That's not Ben Mills'. It's not me. People say it sounds like Santana."
Where was the video filmed? It reminds us of Emma Bunton's 'What Took You So Long' video.
"Well, we're big on cars at the moment! It was actually filmed in South Africa. The song itself is a good song. It could be quite a good song to play with a live band, but it's very commercially recorded, you know. The way they've done it, they've popped it up big time. It's what they do - they take a formula, see that it works, and say, 'It worked for Ronan Keating, so let's do it for Ben.' I'm still really pleased to have the album out. Lots of the other tracks are the direction I had in mind."
Are you still in touch with Sharon Osbourne?
"Unfortunately not. I tried calling her the other day, but she's very busy. I just wanted to get in touch 'cause the album's coming out. I thought it would be nice to meet up with her to give her a copy of the CD, that sort of thing. But she's mega busy at the moment. I think she might be coming to Wembley to see the
X Factor
tour, so that's fine."
Where do you see yourself in five years time?
"In five years time I would love to be writing and recording still. For album two I'll really get to show my own sound and have a lot more input. That way people would know more about what I'm about. Five years time, crikey, that's a long time ahead, but I would love to be doing a lot of performing, ideally. That's what I love doing: being on stage, doing things my way."
You recently had your hair cut by Nicky Clarke. What was that like?
"It was nice to have my hair cut by Nicky Clarke. It looks better now than it did before - it's much more manageable and that sort of thing. But the downside is the papers printed a photo of me standing next to Nicky Clarke looking just like Nicky Clarke! That's not how I have my hair, you know! I'm the kind of person that gets out of bed and puts my clothes on and gets on with my day. I don't spend two hours in front of the mirror getting my hair in place. My hair just looked like a Lego man. I'm the first person to take the piss out of myself, and in that photo I definitely looked like a Lego man. I couldn't wait to get out and change the way he'd styled it. He did a great cut - it's ten times better than it was before - but the way he styled it wasn't me, no way."
Who would you like to work with in the future?
"I'd love to work with David Bowie - he's a great guy and talented beyond belief. It would be great to work with him or another really good songwriter like Bob Dylan or Tom Waits. Someone like that, someone who's got a world of experience to draw from. Someone I could really learn from. Not someone who's just coming out at the moment because as far as songwriting goes, I love songs that really mean something."
Ben's album Picture Of You - featuring that cancelled single - is out now.