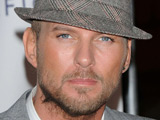 Matt Goss
has revealed that Bros could soon be making a comeback.
Speaking to the
Press Association
at the premiere of his brother Luke's latest film
Hellboy II: The Golden Army
, Matt explained that the former boyband members had discussed a reunion tour.
He said: "Being in a band is like being a politician, you've got to make sure everyone is happy. But Luke, Craig [Logan] and definitely myself - we're all up for it.
"If we can make the numbers work and the venues work, then we're all up for it."
Bros achieved 11 Top 40 singles and three Top 20 albums in the UK from 1987 to 1992. Their hits included 'When Will I Be Famous' and number one single 'I Owe You Nothing'.
Matt added that he hopes a reunion tour will recapture the experience of the band's live shows in their '80s heyday.
"I had the best time," he said. "I think everyone that went to see Bros gigs had the best time and that's the one reason we all agreed it'd be a good laugh if we did it."