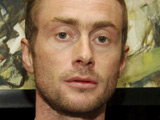 Velvet Revolver's Duff McKagen has revealed that
Royston Langdon
will not be the group's new frontman.
Speaking to
Billboard
about the rumours that Langdon is to join the band, the bass player said: "He's f***ing awesome, at this point I'd have to say no.
"We just have to make sure it's the right guy. Karmically, we deserve the right guy. It's a tough thing, man. We make a pretty big noise."
Velvet Revolver have been searching for a new lead singer since the
departure
of Scott Weiland in April.
Langdon, the estranged husband of actress Liv Tyler, recently reunited with his rock band Spacehog.