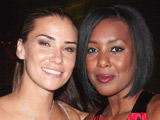 Former Liberty X members
Jessica Taylor
and Kelli Young have formed a group of their own.
The pair have joined forces to become DangerMinx, which they claim has an electropop sound similar to Robyn and Sam Sparrow.
Taylor, who
married
England cricketer Kevin Pieterson last year, commented that the duo have made "a bit of a departure from what [they] were doing with Liberty X".
"Basically we're gonna call ourselves DangerMinx - we just wanted something as we love the word minx and we just thought DangerMinx, why not? It's stuck," she said.
"We've just been in the studio writing and it's just been brilliant to be back in the studio being creative and all that kind of stuff."
Liberty X, which was formed from the five losing finalists from reality show
Popstars
, split in 2007 after six years.