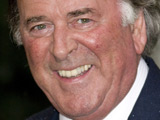 Aled Jones
has described recording 'Little Drummer Boy/Peace On Earth' with Terry Wogan as a "surreal" experience.
The Children In Need
charity single
, which was released on Monday, is competing for the Christmas number one spot.
"It's mental!" Jones told
Digital Spy
. "It didn't come about through me and it wasn't my idea!
"One of Terry Wogan's people came up with the idea of people at Radio 2 recording an album for Children In Need.
"Then they asked me, 'Have you ever seen Bing Crosby and David Bowie's duet - what are you doing the week after next?' I said 'Why?' and they said, 'Because we've booked Abbey Road and we want you and Terry to record it'.
"Having picked myself up off the floor and dusted myself down, I said. 'What the hell, let's do it!'"
He continued: "So off we went to the studio, down the steps past all the Beatles history, with Terry complaining that his knees are hurting him. Then all of a sudden, I'm stood there singing and Terry Wogan's next to me going 'pah-pah-pah' - it was surreal."
When asked about his chances of beating the
X Factor
winner, Jones joked: "I don't think we stand a chance in hell!"