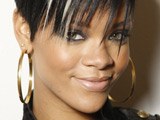 T.I
. and Rihanna have knocked Beyoncé off the top of the US singles chart.
Their track 'Live Your Life' returns to the top spot this week, forcing Beyoncé's 'Single Ladies' into second position.
The highest new entry of the week comes from Britney Spears, who debuts at three with 'Circus', which duly becomes her seventh US top ten hit.
Meanwhile, Spears's latest album, also called
Circus
, debuts at
number one
on the US albums chart this week.
Elsewhere on the singles countdown, Lady GaGa climbs to a new peak of four with 'Just Dance', while Kanye West bounces back to eight with 'Love Lockdown'.
The top ten singles in full (click where possible for our reviews):
1.
(2)
T.I. ft. Rihanna: 'Live Your Life'
2.
(1) Beyoncé: 'Single Ladies (Put A Ring On It)'
3.
(-) Britney Spears: 'Circus'
4.
(5) Lady GaGa ft. Colby O'Donis: 'Just Dance'
5.
(4) T.I: 'Whatever You Like'
6.
(3)
Beyoncé: 'If I Were A Boy'
7.
(6)
Katy Perry: 'Hot N Cold'
8.
(13)
Kanye West: 'Love Lockdown'
9.
(7)
Ne-Yo: 'Miss Independent'
10.
(9)
Britney Spears: 'Womanizer'