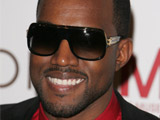 Kanye West
has denied speculation that he uses spiritual chanting to improve his singing voice.
A
report
in
The Sun
had suggested that the rapper uses a special form of chanting to extinguish ghosts and spirits from his space in order to help his voice.
West has slammed the report on his blog, writing: "Ok now this is just stupid. Dude, did you read my book? Do I seem like a chanter?
"Do I even have time to be sitting around doing that? Why you gotta mess up my vacation with stupid s***? You could have waited two more days!"
The
'Love Lockdown'
singer also denied rumours that he will be attending or hosting any special New Year's Eve celebrations.
"If there's any parties on New Year's Eve with my name on it, don't you believe it! I'm staying at home for the first time in five years.We did 98 shows this past year! I just want to chill," he said.