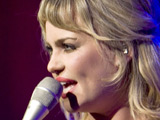 Duffy
, Lily Allen and Elbow are among acts who have contributed to the charity
War Child
album.
The British stars have all recorded popular cover versions that will feature on a record to raise money for children living with the effects of war.
Legendary musicians have given their consent for current acts to rework their songs for the charitable cause.
"War Child does exactly what it says on the tin. These kids shouldn't be in such circumstances in the first place, but they are, so thank god someone's doing something about it," Elbow's Guy Garvey said.
War Child was founded in 1993 and works in war zones including Iraq, Afghanistan, Uganda and the Democratic Republic of Congo.
The album will be released on February 16.
The tracklisting in full:
Beck: 'Leopard-Skin Pill-Box Hat' (Bob Dylan)
Scissor Sisters: 'Do The Strand' (Roxy Music)
Lily Allen: 'Straight To Hell' (The Clash)
Duffy: 'Live And Let Die' (Paul McCartney)
Elbow: 'Running To Stand Still' (U2)
TV On The Radio: 'Heroes' (David Bowie)
Hot Chip: 'Transmission' (Joy Division)
The Kooks: 'Victoria' (The Kinks)
Estelle: 'Superstition' (Stevie Wonder)
Rufus Wainwright: 'Wonderful/ Song For Children' (Brian Wilson)
Peaches: 'Search And Destroy' (Iggy Pop)
The Hold Steady: 'Atlantic City' (Bruce Springsteen)
The Like: 'You Belong To Me' (Elvis Costello)
Yeah Yeah Yeahs: 'Sheena Is A Punk Rocker' (The Ramones)
Franz Ferdinand: 'Call Me' (Blondie)