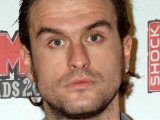 Reverend And The Makers frontman
John McClure
has revealed that he is planning a solo album.
The singer said that the record will be released under his own name and that Babyshambles's Drew McConnell will produce.
McClure's 2009 schedule already includes the debut album from his side-project Mongrel, as well as Reverend And The Makers's second LP
French Kiss In The Chaos
.
"I'm looking to do it when I get back from making the Mongrel record in Venezuela," he told
Teletext
of his solo album. "It's just going to be me, an acoustic guitar, just a couple of other instruments and my barest songs."