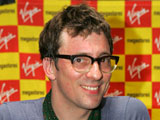 Graham Coxon
has confirmed details of a new acoustic solo album.
The Blur guitarist will release
The Spinning Top
on May 11, which he describes as a narrative journey that follows the story of a man from birth to death.
"The album is mainly an acoustic journey although there is, of course, some explosive electric guitar action," he told
NME
.
"I wanted to show how exciting acoustic instruments can be, how dynamic and rich and heart-thumpingly raw they can sound at a time when acoustic music seems either too cute or too soppy.
"Obvious influences here are the amazing Martin Carthy, the late, great Davey Graham and the late, great John Martyn."
The album, which was recorded last spring with producer Stephen Street, sees Coxon team up with Robyn Hitchcock, Jas Singh, Gurjit Sembhi, Jaskase Singh, Danny Thompson, Graham Fox and Louis Vause.
First single 'In The Morning' is released on May 18.