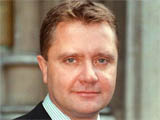 Take That svengali
Nigel Martin-Smith
has formed a new boyband called As Bro.
According to
The Sun
, the five-piece are like a "northern" East 17. The group are currently promoting themselves with shows around Manchester.
"I searched for these lads on council estates all across the North West," said Martin-Smith. "I wanted them to be streetwise as well as having bags of personality, good voices and looking good in front of a camera.
"I haven't put together a boyband since Take That and I believe there is a huge opening for one that is relevant to today, not just one that sings big, slushy love ballads."