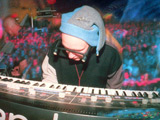 Orbital
have announced that they will release a double-disc greatest hits collection on June 8.
The album, entitled
Orbital 20
, will feature new mixes of the duo's back catalogue from producers including Herve, James Zabelia and Tom Middleton.
"This compilation is the most definitive summary of our work since 'Chime' came out in 1989," band member Paul Hartnoll said in a statement. "It's a great introduction, or indeed a reminder, of the story so far."
The record also includes singles 'Halcyon', 'Are We Here', 'The Box', a live version of 'Remind' and the Top 5-hitter 'Satan'.
Orbital were recently
confirmed
as a headlining act at Rock Ness and will also
play
at this year's Get Loaded In The Park festival in London on August 20.