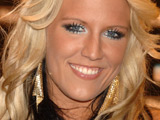 Anglo-German dance trio
Cascada
have prevented Michael Jackson from scoring a posthumous number one single.
'Evacuate The Dancefloor', the lead single from their upcoming third album, debuts at the top of the UK singles chart this week, holding Jackson's 'Man In The Mirror' in the number two spot.
Last week's number one single, 'Bulletproof' by La Roux, falls to three.
Earlier this week Cascada singer Natalie Horler
told DS
that she had mixed feelings about her chart battle with the late superstar.
"In normal circumstances it would, of course, be the most amazing thing ever," she said. "For me though, it's just a real privilege to be in the same vicinity as him. I'm going to get the countdown framed just for that."
There are a total of 27 Jackson tracks in this week's top 75 - an increase of seven on last week's tally. After 'Man In The Mirror', the highest charting Jackson singles are 'Billie Jean' at ten, 'Thriller' at 12, 'Smooth Criminal' at 13 and 'Beat It' at 19.
Meanwhile, Jackson posts five LPs in this week's
top ten albums
, led by hits compilation
The Essential
at number one.
The top ten singles in full (click for our reviews):
1.
(-)
Cascada: 'Evacuate The Dancefloor'
2.
(11) Michael Jackson: 'Man In The Mirror'
3.
(1)
La Roux: 'Bulletproof'
4.
(2)
David Guetta ft. Kelly Rowland: 'When Love Takes Over'
5.
(4)
Lady GaGa: 'Paparazzi'
6.
(3)
Black Eyed Peas: 'Boom Boom Pow'
7.
(6)
Agnes: 'Release Me'
8.
(5)
Keri Hilson ft. Kanye West & Ne-Yo: 'Knock You Down'
9.
(7)
Pixie Lott: 'Mama Do'
10.
(25) Michael Jackson: 'Billie Jean'
Source: Official Chart Company
> Click here for this week's top ten albums