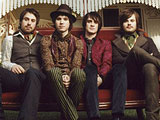 Ryan Ross and Jon Walker have quit
Panic At The Disco
, the band has confirmed.
A statement on the group's official website said the pair had decided to leave in order to "embark on a musical excursion of their own".
Lead vocalist Brendan Urie and drummer Spencer Smith will continue performing as Panic At The Disco on their own.
"Though the four of us have made music together in the past, we've creatively evolved in different directions which has compromised what each of us want to personally achieve," said Ross and Walker.
"Over the years, we have remained close and honest with each other, which helped us to realise that our goals were different and that parting ways is truly what is best for each of us. We are all excited for the future, you should be too."
Ross - guitarist and chief lyricist - founded the group with Smith and Urie while at high school in 2004. The band were signed to Pete Wentz's Decaydance label in 2005 and went on to release first album
A Fever You Can't Sweat Out
, which has sold around 2.2 million copies in the US.
The group had been working on a third album - the follow-up to 2008's acclaimed
Pretty. Odd.
- for release later this year.