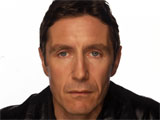 Paul McGann
has said that singer-songwriter Patti Smith reduced him to tears at a recent live show.
The
Withnail & I
star told
The Guardian
that he is a big fan of Smith.
McGann said: "I admire artists who are ageing and still retaining their edge. Like Patti Smith - I saw her play live a few weeks ago and was moved to tears."
He added that if he could own a single piece of art, it would be Lorenzo Lotto's
Portrait of a Gentleman in his Study
.
"I'd stand in front of it, imagining it's me in the painting," he said.