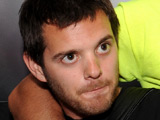 The Streets
' Mike Skinner has reportedly announced that he recruited The Music singer Rob Harvey for a track on his forthcoming album.
Skinner revealed the collaboration on his official website, where he posted a picture of himself with Harvey and explained how the partnership came about.
"Rocking out with Rob Harvey from The Music on some vocals for my album," he wrote. "We've been mates for (a long) time but something clicked musically recently."
Skinner had previously stated that his fifth studio album will be named
Computers And Blues
and is due for release in February. He has also repeatedly maintained that the record will be his
last
as The Streets.