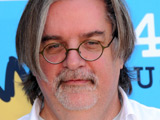 Simpsons
and
Futurama
creator
Matt Groening
will curate the 2010 All Tomorrows Parties festival at Butlins.
The American cartoonist will pick the acts who play the event, which takes place in the Minehead, Somerset holiday resort.
No bands have been announced for the UK festival yet. Groening previously worked with All Tomorrows Parties at the 2003 US version of the festival, which took place in Long Beach, California. Cat Power, The Shins and Sonic Youth were among the acts who played that event.
Groening's All Tomorrow's Parties will take place on May 7 to 10, 2010. Tickets go on sale this Friday.