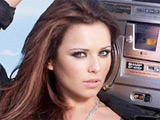 Cheryl Cole
has topped the Irish singles chart this week with her debut solo song 'Fight For This Love'.
The Girls Aloud singer pushes her former
X Factor
protégé Alexandra Burke down to second place with 'Bad Boys' following the star's one-week reign at the top of the chart.
Meanwhile, former chart rulers Black Eyed Peas slip a further spot to number three with 'I Gotta Feeling', which is followed by Shakira's 'She Wolf' at four and Michael Bublé's 'Haven't Met You Yet' at five.
Outside of the top ten, Whitney Houston's new single
'Million Dollar Bill'
climbs 29 places to number 11, while Black Eyed Peas' latest offering
'Meet Me Halfway'
moves up 14 spots to number 13.
The top ten singles in full:
1.
(13)
Cheryl Cole: 'Fight For This Love'
2.
(1)
Alexandra Burke ft. Flo Rida: 'Bad Boys'
3.
(2)
Black Eyed Peas: 'I Gotta Feeling'
4.
(4)
Shakira: 'She Wolf'
5.
(10)
Michael Bublé: 'Haven't Met You Yet'
6.
(3)
Robbie Williams: 'Bodies'
7.
(-) Tupelo: 'Cá Bhfuil Ár Scoil'
8.
(9)
Chipmunk: 'Oopsy Daisy'
9.
(6)
David Guetta ft. Akon: 'Sexy Bitch'
10.
(7)
Taio Cruz: 'Break Your Heart'