Music News
Liam: 'We'll have Noel in music war'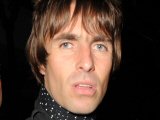 Liam Gallagher
has suggested that his group would outdo his brother and
former
bandmate Noel if they released their albums on the same day.
The singer confirmed that he was currently
working
with ex-Oasis musicians Andy Bell and Gem Archer, touring members Chris Sharrock and Jay Darlington and a "mega" new bass player.
Liam told
Sky News
of Noel: "He's doing his thing, we're doing our thing, I wish him all the best.
"Don't release it the same day as ours, because we'll have you, and I'm feeling really confident about that. I don't wish him any bad, I'm his brother. I love him to death.
"I've not spoken to him. I didn't really speak to him that much anyway. All this thing about us fighting all the time - he was doing his thing, I was doing my thing, we only met on stage."
When asked if Noel would rejoin the band after a solo album, he added: "I don't think that's good for the soul all that stuff.
"You can't hold people to ransom like that. I'm doing Pretty Green now and making my own tunes and all that - and whether they're better than Oasis or not we'll see.
"It's not fair to the fans either, you can't just mess with people. Oasis mean a lot to people, you can't keep turning it off and on. I think it's done."