Music News
Jennifer Lopez 'still sore from AMA fall'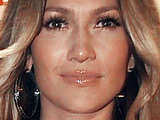 Jennifer Lopez
has revealed that she still has a sore derriere from her recent fall at the American Music Awards.
The actress-singer talked about her injury and explained why she fell during a segment on Thursday's
Ellen Degeneres Show
, reports
People
.
"I have a bruised bone," she told host DeGeneres.
Lopez added: "What happened was one of the dancers' backs was slippery from sweat and lights and everything. We never bargained for that because they always had T-shirts on in rehearsal.
"So they were barebacked, didn't have shirts on for the performance and when I stepped on their backs, my feet got wet. So when I landed, it just slipped from under me."
The 40-year-old recently
joked
that her on-stage stumble was a planned part of her choreographed routine.