Music News
Band Aid 20 'biggest Xmas hit of decade'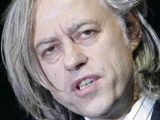 Band Aid 20
's 'Do They Know It's Christmas' is the most successful festive song of the decade, according to the Official Charts Company.
The charity song, which features artists including Bono, Dido, Robbie Williams and Estelle, spent four weeks at No. 1 in 2004 and sold a total of 1.1 million copies.
The Darkness's 'Christmas Time (Don't Let The Bells End)', which was held off the top spot by Gary Jules hit 'Mad World' in December 2003, was the second biggest-seller of the decade.
Christmas songs by The Pogues, Mariah Carey, Shakin' Stevens and Slade also make up the chart, despite being released in previous decades.
Dance act Cascada's rendition of Wham's 'Last Christmas' is the sixth best-seller, one place ahead of the 1984 original version.
The original Band Aid single, organised by Bob Geldof and Midge Ure to raise money for famine relief in Ethiopia, sold over a million copies in its first week of release in 1984.
The top 20 best-selling Christmas singles of the 2000s in full:
1.
Band Aid 20: 'Do They Know It's Christmas' (2004)
2.
The Darkness: 'Christmas Time (Don't Let The Bells End)' (2003)
3.
The Pogues ft. Kirsty Maccoll: 'Fairytale Of New York' (1987)
4.
Mariah Carey: 'All I Want For Christmas Is You' (1994)
5.
Bo Selecta: 'Proper Crimbo' (2003)
6.
Cascada: 'What Hurts The Most'/'Last Christmas' (2007)
7.
Wham: 'Last Christmas' (1984)
8.
The Idols: 'Happy Xmas (War Is Over)' (2003)
9.
Tweenies: 'I Believe In Christmas' (2001)
10.
S Club Junors: 'Puppy Love'/'Sleigh Ride' (2002)
11.
Red Hot Chili Peppers: 'Snow (Hey Oh)' (2006)
12.
Geraldine: 'Once Upon A Christmas Song' (2008)
13.
Slade: 'Merry Christmas Everybody' (1973)
14.
Frankie Goes To Hollywood: 'The Power Of Love' (1984)
15.
Shakin' Stevens: 'Merry Christmas Everyone' (1985)
16.
Wizard: 'I Wish It Could Be Christmas Everyday' (1973)
17.
Cliff Richard: 'Santa's List' (2003)
18.
Band Aid: 'Do They Know It's Christmas' (1984)
19.
Lazy Time: 'Bing Bang (Time To Dance)' (2006)
20.
Crazy Frog: 'Jingle Bells'/'U Can't Touch This' (2005)