Music News
Joe McElderry climbs up to number one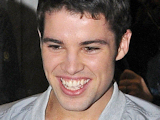 Joe McElderry
has reached number one in the UK singles chart.
The
X Factor
winner
lost out
on the Christmas number one last week after an online campaign
urged
fans to buy the Rage Against The Machine song 'Killing In The Name'.
However, McElderry sold 196,000 copies of his debut single 'The Climb' over the last week, outselling Rage Against The Machine by 130,000 units.
'The Climb' may also become one of the year's top five biggest-selling singles. The number five spot is currently held by La Roux's
'In For The Kill'
, which shifted 660,000 copies, but McElderry is close behind after selling 650,000 singles so far.
The Official Charts Company managing director Martin Talbot said: "The race for Christmas number one was the most exciting many of us can remember, but, having secured his own number one, McElderry can top his year off with another honour and has an excellent chance of making the year-end top five by next week."
Elsewhere in the singles chart, Cheryl Cole climbed into the top five with '3 Words', while Ke$ha re-entered the top ten with 'Tik Tok'.
However, Peter Kay's Animated All Star Band dropped out of the top ten to number 11 with 'The Official BBC Children In Need Medley'.
The top ten singles in full (click where possible for our reviews):
1.
(2)
Joe McElderry: 'The Climb
2.
(1)
Rage Against The Machine: 'Killing In The Name'
3.
(3)
Lady GaGa: 'Bad Romance'
4.
(7)
Cheryl Cole: '3 Words'
5.
(5)
3OH!3 ft. Katy Perry: 'Starstrukk'
6.
(10)
Black Eyed Peas: 'Meet Me Halfway'
7.
(9) Journey: 'Don't Stop Believin'
8.
(8)
Rihanna: 'Russian Roulette'
9.
(6)
Robbie Williams: 'You Know Me'
10.
(11)
Ke$ha: 'Tik Tok'
Source: Official Charts Company
> Click here for this week's top ten albums