Music News
SuBo denies GaGa 2009 chart double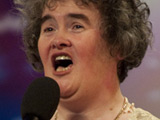 Susan Boyle
has prevented Lady GaGa from scoring an end-of-year chart double.
Her debut album
I Dreamed A Dream
sold more than 1.5m copies in its first six weeks of release to become the biggest seller of 2009, the Official Chart Company revealed.
Lady GaGa's own debut,
The Fame
, is named as the year's second-biggest seller, while her hit 'Poker Face' is
top-selling single
.
Meanwhile, Michael Bublé's
Crazy Love
places third on the end-of-year album chart, while Black Eyed Peas's
The E.N.D.
- home to three of 2009's top ten singles – finishes fourth.
Albums by British stars JLS, Paolo Nutini, Lily Allen and Robbie Williams also place in the top ten, alongside international releases from Kings of Leon and Beyoncé.
The top ten albums of 2009 in full:
1.
Susan Boyle: 'I Dreamed A Dream'
2.
Lady GaGa: 'The Fame'
3.
Michael Bublé: 'Crazy Love'
4.
Black Eyed Peas: 'The E.N.D.'
5.
Kings of Leon: 'Only By The Night'
6.
JLS: 'JLS'
7.
Beyoncé: 'I Am Sasha Fierce'
8.
Paolo Nutini: 'Sunny Side Up'
9.
Lily Allen: 'It's Not Me, It's You'
10.
Robbie Williams: 'Reality Killed The Video Star'
> Click here for the top ten singles of 2009