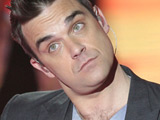 Robbie Williams
has met with his former Take That bandmates to plan a "full-scale" reunion, according to a report.
The Sun
claims that Williams spent more than five hours in a Los Angeles recording studio with Take That on Tuesday, where they are said to have worked on new songs.
A source told the newspaper: "All the signs are looking good. It's great news for the fans."
The insider added: "They're using this time in LA to start working together as a band again. They were delighted with Tuesday's session and were congratulating each other as they left."
Williams quit Take That under acrimonious circumstances in 1995. However, the singers have since resolved their differences and a full reunion has been rumoured for some time.
A band spokesman said: "Take That didn't go to LA with plans to officially write or record with Robbie, but they've been hanging out together, which is great."