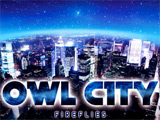 Owl City
has topped the UK singles chart for the second week in a row with 'Fireflies'.
'Fireflies', taken from the singer-songwriter's third album, climbed up to number one last week and is currently also top of the charts in Ireland and Australia.
Alicia Keys broke into the top ten with 'Empire State of Mind (Part II)', climbing eight places to number seven. Meanwhile, Jay-Z and Mr Hudson jumped up three slots to number ten.
Journey's 'Don't Stop Believin' is still holding out in the top ten, with the
Glee
cast moving up to number two. However, Journey's original version slid one place to number eight.
Meanwhile, Alexandra Burke's
'Broken Heels'
fell three places to number 11, while Lady GaGa dropped to number 12 with
'Bad Romance'
.
The top ten singles in full (click where possible for our reviews):
1.
(1)
Owl City: 'Fireflies'
2.
(3)
'Glee' Cast: 'Don't Stop Believin'
3.
(2)
Iyaz: 'Replay'
4.
(4)
3OH!3 ft. Katy Perry: 'Starstrukk'
5.
(5)
Sidney Samson ft. Wizard Sleeve: 'Riverside (Let's Go)'
6.
(10)
JLS: 'One Shot'
7.
(15)
Alicia Keys: 'Empire State Of Mind (Part II)'
8.
(7) Journey: 'Don't Stop Believin'
9.
(6)
Example: 'Won't Go Quietly'
10.
(13) Jay-Z ft. Mr Hudson: 'Young Forever'
Source: Official Charts Company
> Click here for this week's top ten albums