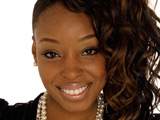 Sabrina Washington
has confirmed that her debut solo album is provisionally titled
Dirty Pop
.
The former Mis-teeq frontwoman, who recently
appeared
on ITV1's
I'm A Celeb
, revealed that the record reflects her current state of mind.
"I'm calling it
Dirty Pop
at the moment because that's the only way I can describe the sound," she told
Digital Spy
.
"It reflects who I am now, I'm talking about issues that have affected me or affected people around me. I'm a woman now and I like to be sexy, I like to dress up, it's definitely a more confident me."
The singer claimed that the album has an "upbeat and fun" feel to it, similar to her new single
'OMG'
.
"The lyrics are quite in-your-face and tongue-in-cheek. It's all about having fun in the world as is right now. Music for me is a way of escapism and that's what I want to do on the album - let everyone go out and have a good time.
"There's a song called 'Strip', which is one of my favourites, about a girl telling a guy to strip - rather than the other way round. It's about being in control as a woman and telling a man what you want.
"There's another one called 'I Want It' about wanting the keys to the world, wanting it all at the same time. I've also just done a new track called 'Don't Put Words In My Mouth', which is about how the media always try to make you say things you don't necessarily really mean."
Washington releases new single 'OMG' on March 22. Her album follows later in the year.