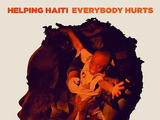 Helping Haiti
's rendition of 'Everybody Hurts' has topped the UK singles chart for a second week.
The single features artists including Kylie Minogue, Robbie Williams and Cheryl Cole, with money raised from the track being donated to
The Sun
's Helping Haiti campaign and the Disasters Emergency Committee.
Meanwhile, Florence and the Machine's collaboration with Dizzee Rascal, 'You've Got The Dirtee Love', went straight in at number two after the duo performed at Tuesday's Brit Awards. Money raised from the single will be donated to the Brits Trust.
Martin Talbot, managing director of the Official Charts Company, said: "For so many charity records to be sold in such a short space of time shows just how generous the British public are - it adds up to 600,000 charity singles in the past two weeks across these two singles."
Meanwhile, the
Glee
cast kept both 'Don't Stop Believin' and 'Halo/Walking On Sunshine' in the top ten, while 'It's My Life/Confessions Part II' took the number 20 spot. The comedy series also charted at number 47 with 'Keep Holding On', number 52 with 'No Air' and number 56 with 'Somebody To Love'.
Lemar's 'The Way Love Goes' debuted at number eight, but JLS and Iyaz both dropped out of the top ten.
The top ten singles in full (click where possible for our reviews):
1.
(1)
Helping Haiti: 'Everybody Hurts'
2.
(-)
Florence & Dizzee: 'You've Got The Dirtee Love'
3.
(2)
Owl City: 'Fireflies'
4.
(3)
Timbaland ft. Katy Perry: 'If We Ever Meet Again'
5.
(4)
Alicia Keys: 'Empire State Of Mind Part II'
6.
(10)
Rihanna: 'Rude Boy'
7.
(5)
'Glee' Cast: 'Don't Stop Believin'
8.
(-)
Lemar: 'The Way Love Goes'
9.
(9) 'Glee' Cast: 'Halo/Walking On Sunshine'
10.
(6)
3OH!3 ft. Katy Perry: 'Starstrukk'
Source: Official Charts Company
> Click here for this week's top ten albums