Music News
Joanna Newsom to close Green Man festival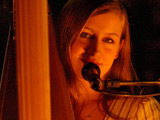 Joanna Newsom
has been revealed as the Sunday night headliner at this year's Green Man festival.
The harpist and singer joins Billy Bragg, Field Music, Fionn Regan and others for the event, with The Flaming Lips already confirmed as the Saturday night bill-toppers.
Organisers said: "The multi-talented singer and harpist is set to bewitch and beguile the main stage faithful in what promises to be a truly extraordinary Green Man moment beneath the breathtaking Black Mountains on Sunday night.
"If Joanna's now-legendary appearances at Green Man in 2004, 2005 and 2007 are anything to go by, you'll forgive us when we say this is shaping up to be one of the musical highlights of the year."
Newsom's
Have One On Me
, the follow-up to 2006's
Ys
, is
available
through Drag City now.
The Green Man festival takes place between August 20 on 22 at Granusk Park in the Brecon Beacons, South Wales.