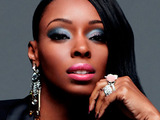 Sabrina Washington
has denied ever making jibes about the singing ability of her former Mis-Teeq bandmate Alesha Dixon.
In a 2008 interview, the
I'm A Celebrity…
star was quoted as saying that Dixon "should have stuck to MC-ing because her voice isn't that strong".
However, speaking on Five's
Live From Studio Five
, the singer said that the quote was proof that the media cannot be trusted to tell the truth.
Washington insisted: "That's not what I said. I didn't say anything along those lines.
"Do you know what it is? You get misquoted every single day and you just live with it. I don't even read the newspapers because I'm not really interested in what they've got to say. I've just got to go on and do my thing. Don't always believe what you read!
"I'm happy for Alesha because she came out of the Mis-Teeq camp. Anything that comes out of the Mis-Teeq camp I'm happy for."
Washington is currently promoting her debut solo single
'OMG'
.