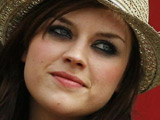 Amy MacDonald
has revealed that U2 are fans of hers, according to reports.
The Scottish singer-songwriter, who released
'Don't Tell Me That It's Over'
last week, said that she was shocked by the Irish band's admission.
She told
Bang Showbiz
: "I met U2, they sent me a letter to my dressing room, we were doing an awards ceremony. It said, 'To Amy, come and say hello to your fanclub', and was signed by all of U2! I was like, 'Wow'.
"I was there in the dressing room, Bono was pouring me a glass of wine and we were having a conversation abut my videos - they knew all my music, I couldn't believe it."
She added: "I couldn't wait to get out of there so I could tell everyone - I was like, 'Yeah, alright, can I get out of here now and go phone my mum?'"