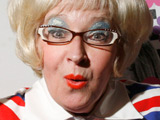 Actress and comedian
Su Pollard
has jokingly suggested that she should do a duet with Lady GaGa.
The '80s TV star, who appeared in shows such as
Hi-de-Hi!
and
Oh, Doctor Beeching!
, claimed that she shared many similarities with the American artist.
"Lady GaGa knows how to take the mickey out of herself and so do I. In some ways we're peas in a pod," Pollard told
The Sun
.
"I've always loved to wear clothes like GaGa is wearing now. I was way before my time when I was young. I adore Lady GaGa's look. Like me she doesn't just wear the same boring frocks all those other stars wear on the red carpet. I think New York needs a Su Pollard. I welcome it, I say bring it on!"
She added: "We could do a duet, how interesting would that be? You're never too old to have fun with fashion. So many people don't have fun and take themselves far too seriously."
Peter Kay compared GaGa to Pollard during his stint as host of the Brit Awards last month.
> DS Icon: Su Pollard