Music News
Exclusive:

Gabriella Cilmi: 'I'm a guard dog'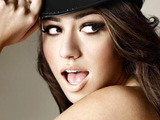 Gabriella Cilmi
has compared herself to a "guard dog" in her relations with friends and family.
The Aussie pop singer admitted that she gets "mad" if anyone upsets her loved ones - and she has written a song about her protective streak for her new album.
"There's a monster ballad on there called 'Defender' which is kind of in the same vein as Bonnie Tyler. It's all about going into battle and doing anything to protect someone you love," she told
Digital Spy
.
"I'm a bit of a guard dog like that. If someone messes with my friends and family, I get really mad and 'Defender' is kind of about that."
Cilmi, whose new single
'On A Mission'
is on course to chart in this Sunday's top ten, also revealed that she uses songwriting to discuss issues that she finds too difficult to talk about.
"Sometimes I find it easier to get out how I'm feeling in a song because I'm too scared to tell people how I feel to their faces. I'm chicken like that," she said. "If I fancy someone, or if I don't, or if someone's really made me mad, I'll put it in a song."
Gabriella Cilmi releases new album
Ten
on March 22.
> Click here to watch our video interview with Gabriella Cilmi